The complex had been shut since 2 December when a couple burst into a holiday party and opened fire in the deadliest terror attack on US soil since 9/11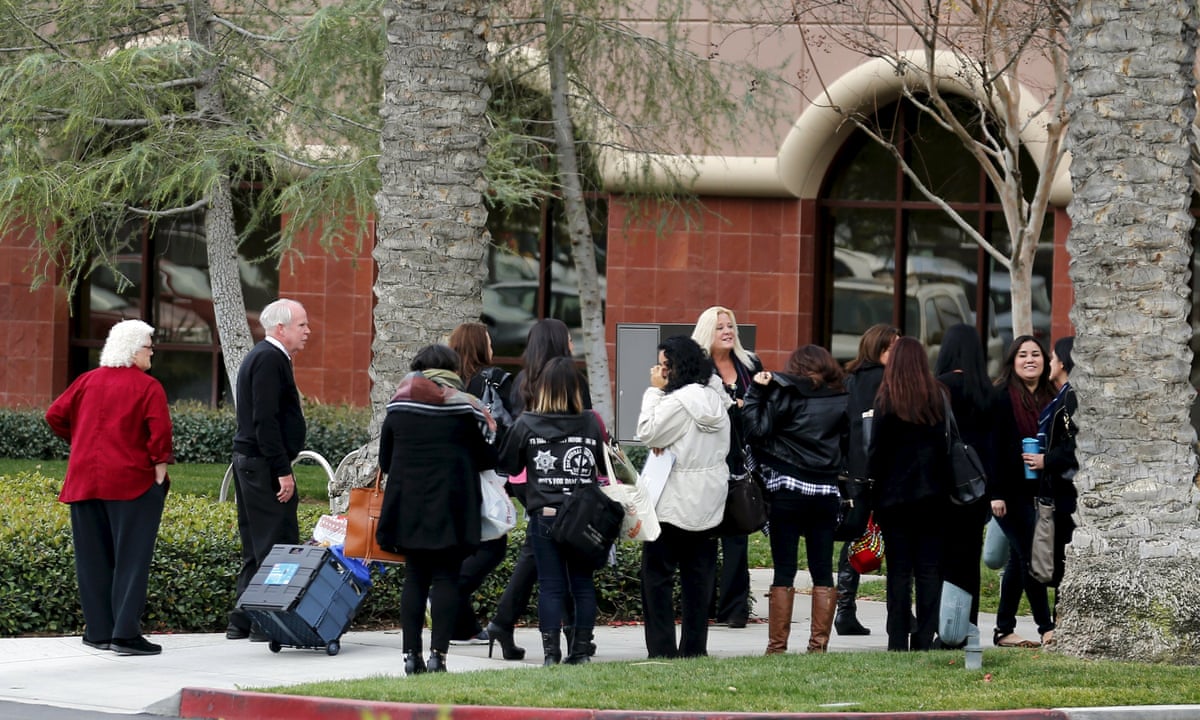 The Inland Regional Center in San Bernardino has reopened for the first time since last months massacre, allowing around 600 employees to return to work at the site.
After passing guards who checked identity cards, the workers were expected to gather in small groups to talk on Monday before resuming their duties serving 30,000 people with developmental disabilities in San Bernardino and Riverside counties.
The centre has been shut since 2 December, when Syed Rizwan Farook and his wife, Tashfeen Malik, burst into a holiday luncheon in a conference room and opened fire, killing 14 people and wounding 20, in the deadliest terror attack in the US since 9/11.
The conference room remained shut authorities have not yet decided what to do with it but the rest of the campus, comprising two large red stone buildings, was open.
Crews have cleaned up broken glass and other debris from the attack and erected a chain-link fence around the complex. Professional counsellors were on site for any employees who felt in need of their services.
We have security guards at each entrance area. We continue to measure the security and we will continue to look at it, Lavinia Johnson, the centres executive director, told reporters outside the facility.
Today I will be spending time with my staff, my directors and my managers and have welcoming remarks for them. We have food inside the agency as well as counselling for those who are still not ready and still continuing the healing process. Most of us are relieved to be back at work. We want to continue with the normalcy, and we miss each other very much.
The World Way, a Christian ministry, set up a prayer tent near the entrance and provided coffee and breakfast bars. Later on Monday, Californias governor, Jerry Brown, was expected to attend a private memorial service for the victims in nearby Ontario.
San Bernardinos step towards normality came as prosecutors prepared the case against Enrique Marquez, a friend of Farook who purchased the guns used in the massacre. Marquez, who is being held without bail, is expected to enter a plea in an arraignment Wednesday at the US district court in Riverside.
Farook, 28, and Malik, 29, died in a gun battle with police a few miles away soon after the massacre. Investigators are still piecing together how Farook, a US citizen who was born in Chicago to Pakistani parents, and Malik, a Pakistani national, came to be radicalised. The couple allegedly pledged allegiance to the extremist group Islamic State.
Farook described by relatives and colleagues as a quiet, reserved and devout Muslim was a county environmental health inspector and had worked alongside the victims. He had left the holiday luncheon, part of a daylong training session, and returned with Malik, both wielding assault rifles and wearing masks and combat-style clothing.
The site remained frozen for weeks while investigators combed for evidence. A few employees visited during that time to retrieve personal belongings, but most stayed away.
Staff used laptops and iPads to access patient records through a web-based operating system, letting them work remotely and serve a community of children with autism, mentally disabled adults and other clients in what is a largely poor and working-class swath of California.
Staff were looking forward to reuniting, a centre spokesperson told the Associated Press.
With the two shooters dead, prosecutors have focused on Farooks friend, Marquez. Relatives and friends have expressed shock that a 24-year-old known for goofy humour, fixing old cars and enjoying beer could be implicated in an extremist plot.
Federal prosecutors have painted a different picture, saying that as Marquezs friendship with Farook grew, he converted to Islam, started attending a mosque in 2010 and became a wannabe terrorist.
Marquez allegedly made false statements in 2011 and 2012 when he bought two semiautomatic rifles for Farook, who feared he would not pass a background check. According to an affidavit, the two plotted attacks on the 91 Freeway in Corona and at Riverside City College in 2011 and 2012, but neither attack went ahead.
Marquez faces five charges, including supplying the weapons and smokeless powder contained in an explosive device found at the scene of the attack, plus marriage fraud. In 2014, he married Mariya Chernykh, a Russian national whose sister is married to Farooks older brother. Marquez faces up to 50 years in federal prison if convicted on all charges.
Source: http://allofbeer.com/2017/08/12/san-bernardino-office-building-reopens-a-month-after-mass-shooting-left-14-dead/